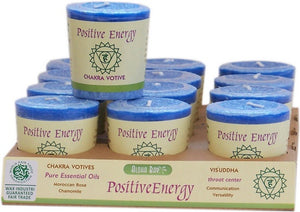 Positive Energy (Visuddha)
The throat chakra is the center of communi- cation. You will be drawn to meet new and wonderful people and embrace experiences that will encourage your spiritual growth.
100% Pure Essential Oil - Lavandin, Orange, Tangerine, Vegetable wax
One (1) Votive
*For educational purposes only. This information has not been evaluated by the Food and Drug Administration. This information is not intended to diagnose, treat, cure, or prevent any disease.