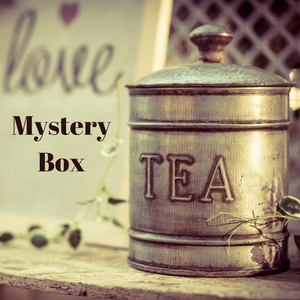 Welcome to our R2R Mystery Boxes!
A cup of tea solves everything and the apothecary has a wonderful hodge podge of odds and ends that come to visit. Each of these items has teamed up with friends to hop into the shipping boxes in preparation for their adventure into the world. Whether it be by airship or pony express, your tea and treasures will begin their journey to you.
Each box contains a variety of teas:

Multiple herbal and/or non-herbal teas
At least 4 full ounces total! 
AND a variation of the following:
mystery ways to drink your tea?
organic infused oils?
organic essential oils?
bath and body?
cleansings?
tinctures?
or whatever else pops up that we just had to include!