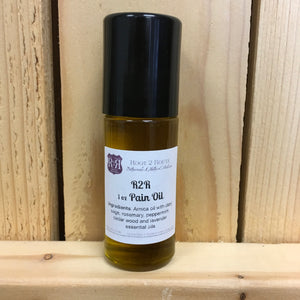 Pain is no fun so we've formulated an intense pain salve using a double maceration of the whole arnica flower and compounded it with essential oils known to reduce pain and inflammation. The formula first originated for a torn rotator cuff and over time began to show huge benefits for any and all:
CONNECTIVE TISSUE issues
TENDONS
LIGAMENTS
Joint Pain (shoulders, wrists, knees, ankles and anywhere where the bone is close to the surface).
 Its pain healing qualities include but not limited to:
JOINT INFLAMMATION
ARTHRITIS
SWELLING
BRUISING
MUSCLE CRAMPS
POOR CIRCULATION
1 Fluid Ounce Roll On
ORGANIC INGREDIENTS: Arinca flower, olive oil, essential oils of clary sage, rosemary, peppermint, cedar wood and lavender.

EXTERNAL USE ONLY