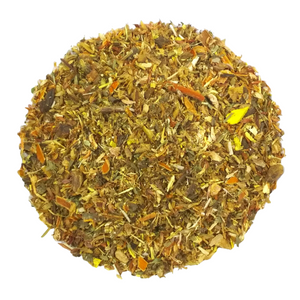 This blend has one heck of a kick! A kick in the pants that is. These herbs assist in the health and detoxification of the blood but more is not better. These heavy hitters are for those who have tried other detoxing herbs but did not reach their goals. 
Organic Ingredients: Buckthorn bark, burdock root, red clover blossoms, yellow dock root, barberry root, and licorice root.
Daily serving size: Pour 8 oz of boiling water (212° F) over 1 tsp (tisane) herb mixture
Steep 10 minutes, strain and enjoy
Not for long term use (4 weeks, tisane preparation method).
*Avoid pregnancy, lactation, diabetes, the use of prescription medications. And certain medical conditions.
 *For educational purposes only. This information has not been evaluated by the Food and Drug Administration. This information is not intended to diagnose, treat, cure, or prevent any disease.