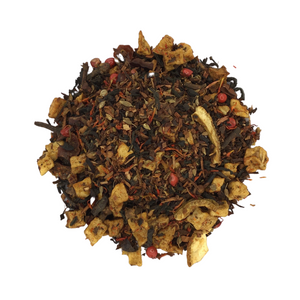 A wonderful Fall smokey tea that will leave you smiling, warmed, and glad for the great taste with or without the bonfire! 
Ingredients: Honeybush Tea, Apple Pieces, Aniseed, Lapsang Souchong Tea, Cocoa Nibs, Rose Hips, Cinnamon, Red Peppercorn, Orange, Cloves, Natural Cinnamon Flavor, Natural Orange Flavor, Safflower & Natural Hazelnut Flavor
Steep 5 minutes, strain and enjoy
*For educational purposes only. This information has not been evaluated by the Food and Drug Administration.
This information is not intended to diagnose, treat, cure, or prevent any disease.