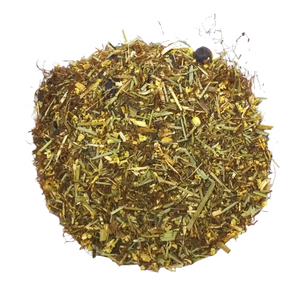 Sometimes we get "the drips". Thank goodness for these soft and mildly sweet herbs that have been used for centuries to support and maintain healthy bladder function!
Organic Herbal Ingredients: Cleavers herb, shavegrass herb, couch grass root, corn silk, and Juniper berries.
Daily serving size: Pour 8 oz of boiling water (212° F) over 1 tsp (tisane) - 1 Tbsp (medicinal) herb mixture
Steep 10 minutes, strain and enjoy
*Caution in pregnancy, lactation
*Avoid with renal failure; and concurrent use of prescription diuretics.
*For educational purposes only. This information has not been evaluated by the Food and Drug Administration.
This information is not intended to diagnose, treat, cure, or prevent any disease.