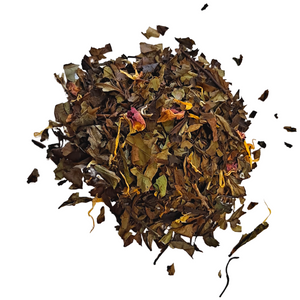 This soft blend of white and green tea, with accents of floral, fruit flavors this is a contemplative tea that is sure to bring a bit of enlightenment to your day.
Ingredients: White Tea, Gunpowder Tea, Jasmine Chun Hao Tea, Natural Pineapple Flavor, Natural Peach Flavor, Rose Petals & Marigold Flowers
Daily serving size: Pour 8 oz of boiling water (212° F) over 1 Tbsp tea mixture
Steep 3-5 minutes, strain and enjoy
*For educational purposes only. This information has not been evaluated by the Food and Drug Administration.
This information is not intended to diagnose, treat, cure, or prevent any disease.