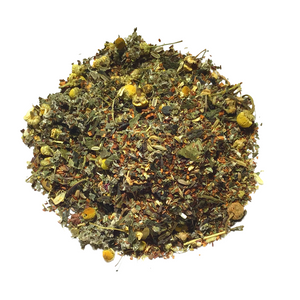 These anti-inflammatory herbal ingredients are blended with a lightly-caffeinated brew that offers you relief from Aunt Flo's visits. This blend will help relax your mind, calm your cramps, and soothe your aches, bloating, nausea, and even headaches.
Ingredients: Rooibos Tea, Jasmine Chun Hao Tea, Raspberry Green Tea, Raspberry Leaves, Fennel, Chamomile Flowers & Lemon Balm
Daily serving size: Pour 8 oz of boiling water (212° F) over 1 tsp (tisane) - 1 Tbsp (medicinal) herb mixture
Steep 10 minutes, strain and enjoy
*For educational purposes only. This information has not been evaluated by the Food and Drug Administration.
This information is not intended to diagnose, treat, cure, or prevent any disease.