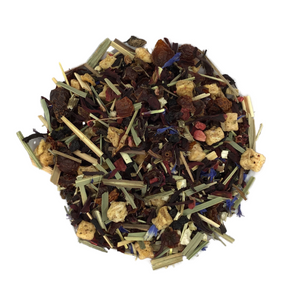 "More Wine!" said Aramis of old. 

'Tis the season to bring on the elderberry syrups, tea and wine. Imagine a tart yet sweet and tangy glass of chilled elderberry wine after a long and crazy. A day where you just want to kick back and relax but without the alcohol perhaps? If so then this is the tea for you! A beautiful blend served either hot or cold. 
Ingredients: Licorice, Hibiscus, Rose Hips, Elderberry, Echinacea, Apple Pieces, Lemon Grass, Raspberries & Blue Cornflowers
Steep 3-5 minutes, strain and enjoy

*For educational purposes only. This information has not been evaluated by the Food and Drug Administration.
This information is not intended to diagnose, treat, cure, or prevent any disease.