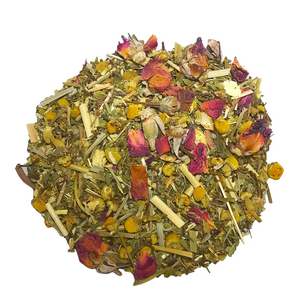 A little Oh La La perhaps?

Damiana's claim to fame is for her aphrodisiac qualities. To the point that she has actually been banned in the state of Louisiana! Thank goodness we're in Arizona. This wonderful little non-caffeinated aphrodisiac blend was created to help with libido all around the country (wink wink)
Organic Ingredients: Chamomile flower, damiana leaf, lemongrass, spearmint leaf, passion flower, rose petals & flower, and lemon peel.
Daily serving size: Pour 8 oz of boiling water (212° F) over 1 tsp (tisane) - 1 Tbsp (medicinal) herb mixture
Steep 10 minutes, strain and enjoy
*For educational purposes only. This information has not been evaluated by the Food and Drug Administration.
This information is not intended to diagnose, treat, cure, or prevent any disease.