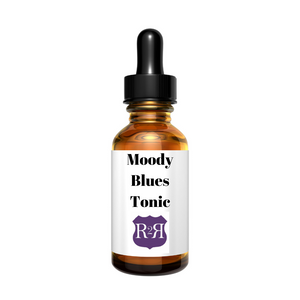 *NEW FORMULA*
We've all been there. Days where you just can't seem to drag yourself out of bed and nothing seems to bring us joy. 
Moody Blues  provides an uplifting boost of sunshine to chase those blue's away!
Organic Ingredients: Blue vervain herb, Lemon balm leaf, St John's wort herb, Passion flower, Skullcap herb, water, alcohol
**Avoid with alcohol, sedative or CNS depressants.
*For educational purposes only. This information has not been evaluated by the Food and Drug Administration. This information is not intended to diagnose, treat, cure, or prevent any disease.