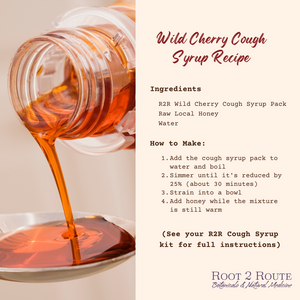 Coughing is probably one of the hardest things the body can do, expelling whatever it is that needs to go. 
Our R2R Wild Cherry Cough Syrup formula is a blend as old as time. Wild Cherry bark is known for its ability to calm the respiratory system nerves and diminish cough and asthma.  We've added 5 more herbs, including elecampane, to the mix to support the family during the coming cold and flu season and to help "cough up" all that phlegm before it gets stuck!
Available in a wonderful "ready to prep" kit that you can have on hand at all times is something we strongly recommend. 
Available September - March 
Organic Ingredients: Wild Cherry bark, Marshmallow root, Elecampane root, Fennel, Cinnamon, Ginger, Orange Peel

Instructions on how to prepare your 32 ounce jar are included. You will need some raw local honey to preserve this one.

Why? This DIY formula is something that you can have in your herbal medicine chest until you are ready to prepare it. No stress, No mess! 

*For educational purposes only. This information has not been evaluated by the Food and Drug Administration. This information is not intended to diagnose, treat, cure, or prevent any disease.