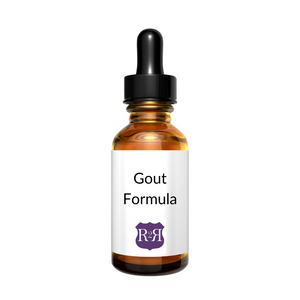 Uric acid crystals can be extremely painful. This blend of herbs is specific in the treatment of inflammatory joint diseases by preventing or minimizing the damage to joint tissues. Wonderful for RA and Osteoarthritis too!
Organic Ingredients:  Devil's Claw root, Sarsaparilla root, Burdock seed, Burdock root, Angelica root, Prickly ash bark, Shepherd's purse herb, water, alcohol

Avoid with blood thinners, some heart medications, pregnancy and lactation. Consult your doctor or practitioner prior to ordering
*For educational purposes only. This information has not been evaluated by the Food and Drug Administration. This information is not intended to diagnose, treat, cure, or prevent any disease.