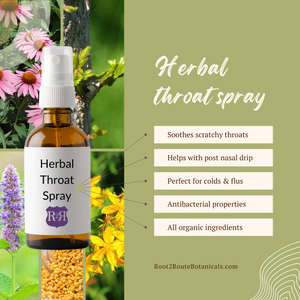 Nothing hurts worse than a sore, scratchy throat. Whether it be draining sinuses, cold and flu cough or strep throat. Our herbal throat spray is formulated with propolis for that extra kick when we need it the most! It helps everything stick to all that wet tissue and tackle the issue where it's at. A wonderful anti-bacterial spray for the entire family!
Organic Ingredients: Echinacea root, St John's wort, Hyssop herb, Osha root, Prickly ash, Propolis, alcohol, purified water and a touch of glycerin to sweeten it up. 
Caution: Propolis comes from bees and is typically a mixed resin composed of beeswax, saliva, sap, and various botanical products in the surrounding area. 
*For educational purposes only. This information has not been evaluated by the Food and Drug Administration. This information is not intended to diagnose, treat, cure, or prevent any disease.