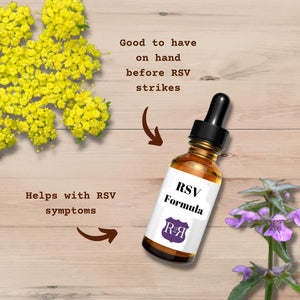 RSV (Respiratory Syncytial Virus) is not only getting an early start this year…but it's also hitting a less common demographic. Instead of just showing up in newborns and young children, it's also getting the older community. And, it started well before its typical January-February time.
So, it's time to make an upgraded version of our RSV formula to address this country-wide issue!
Organic Ingredients: Baikal Skullcap, Eleutherococcus senticosus, Cordyceps, Licorice, Lomatium, water, and alcohol.
It's good to have on hand before RSV strikes your household! 
Cautions: nor recommended with pregnancy,  lactation